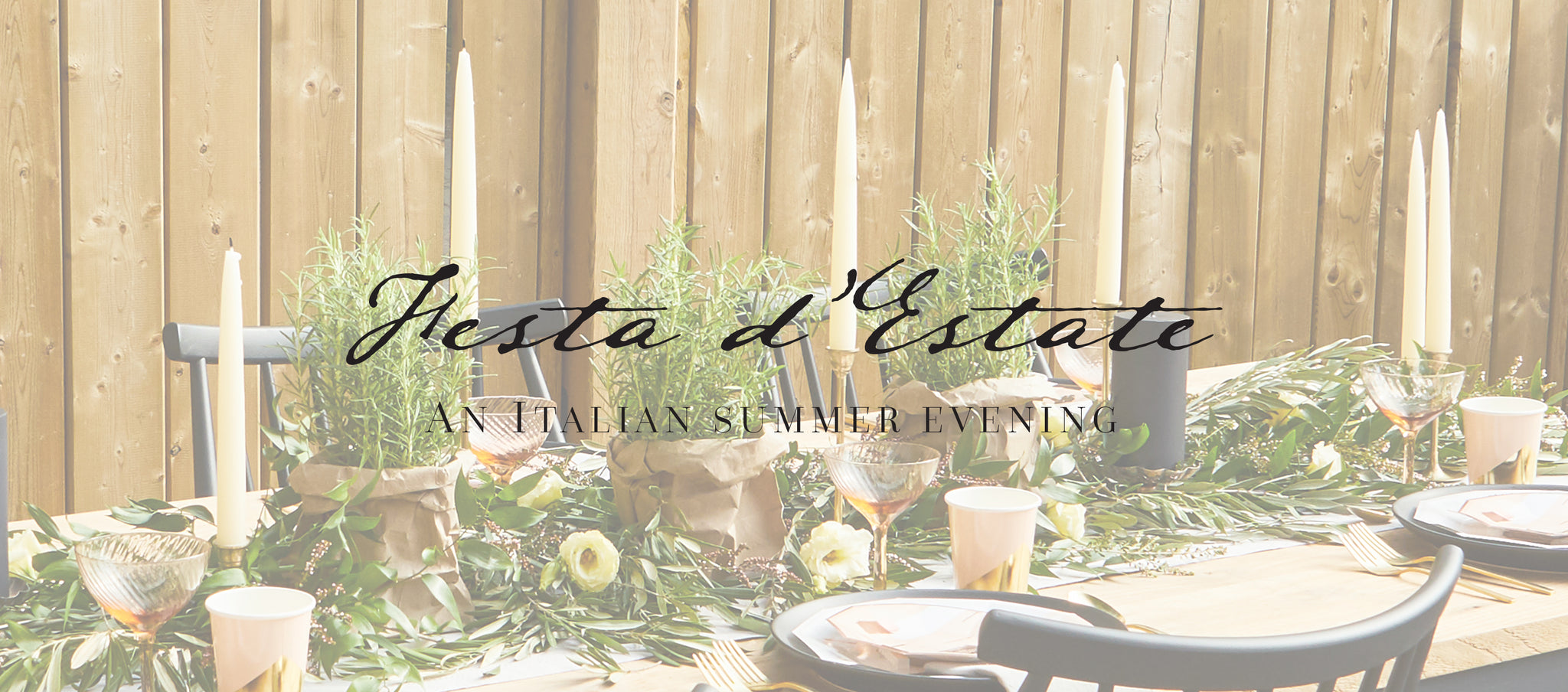 PARTY ET CIE EVENTS - AN ITALIAN SUMMER EVENING
It's no secret that we love parties, but what you may not know is that we love creating and planning events, too.  That being said it should come as no surprise that we eventually would like to expand our business into event coordinating, styling and catering ... but that is a ways down the road.  We are just growing our baby business for the time being.  Once in a while, however, we like to flex our chops and throw a party for friends.  
This hot summer weather inspired thoughts of warm and dreamy Italian evenings, and we loved the idea of dining al fresco, under the stars, and enjoying some gelato while sipping prosecco and aperol spritzes.  We collaborated with Milan-born, Toronto-based stylist, Daniela Turani (Instagram: @dani2dani) to bring the evening to life, and Toronto photographer Andrew Soule (Instagram @AndrewSoule) to capture the details.   
The table was laid out with a natural linen table runner, strewn artfully with cream coloured Italian ruscus, light pink lisianthus, thryptomene, olive branches, and rosemary plants.  Daniela used a mix of brass candlesticks with cream taper candles and black pillar candles to light the evening.  
For the table setting, we used black ceramic plates as a base, and then layered with natural linen napkins, gold cutlery, rose gold coupes and Party et Cie's Harlow & Grey Muse Abstract plates and Goddess cups.  We then added menu cards, and a small gift box for each guest containing some sweet Italian treats, wrapped up with Party et Cie's Rose Gold Metallic Cotton Italian Ribbon.
Cocktails
Aperol Spritz
House Aperitif - Daniela Turani's own recipe
Appetizers
Caponata with Toasted Bread - Daniela Turani's own recipe
Prosciutto and Melon - from the book, "Three Times a Day - Simple and Stylish" by Marilou & Alexandre Champagne.  We used the recipe, "Melon Bites with prosciutto, nuts and cilantro" but substituted parsley for the cilantro, and omitted the aleppo pepper.
A Selection of Italian Salumi
First Course
Orecchiette with Ricotta - Daniela Turani's own recipe
Salad
Little Gem Lettuces with Fresh Herbs and Basil Vinaigrette - we used What's Gaby Cooking's Simple Basil Vinaigrette recipe, and tossed it with little gem lettuces and mixed fresh herbs. 
Second Course 
Roasted Chicken with Herbs, Anchovies and Rucola - we used the recipe, Zuni Sheet Pan Chicken from the book, It's All Easy by Gwyneth Paltrow, but the recipe can be also found online here.  
Dessert
Lemon Olive Oil Cake with Cream and Lemon in Syrup - we used Epicurious' Lemon Olive Oil Cake recipe, and Missy Robbin's Lemon in Syrup recipe from her book, Breakfast, Lunch, Dinner...Life: Recipes and Adventures from My Home Kitchen.
Digestifs
Sgroppino - Daniela Turani's own recipe.
Coffee and Espresso
A Selection of Italian Wines

Event Coordinating and Catering: Party et Cie Team and Daniela Turani
Event Styling: Daniela Turani
Photographer: Andrew Soule - www.AndrewSoule.com
Sourcing: Party et Cie Team and Daniela Turani
Flowers: Coriander Girl and Martin's Flowers